Expert Articles & Advice
August 15, 2014
The backyard patio or deck has long been a favorite place for summer fun and cookouts, but more and more, people are discovering new ways to repurpose their outdoor space. An outdoor living room can expand the functional area of your home by taking advantage of your extra space outside.
August 1, 2014
You take the good with the bad. A fact of life that is all too true in relation to summer weather. While Mother Nature can spoil us with her bright sunny days and warm breezes, she still manages to let us know who's in charge now and then.
Special Offers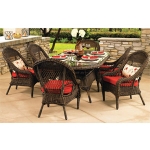 We have patio furniture in-stock and on sale!