Expert Articles & Advice
March 1, 2014
When it comes to energy use in your home, only the kitchen rivals the bathroom. If your home has more than one bathroom, the energy use can increase even more. Large amounts of heat, water and lighting are used in the bathroom every day, by every member of the household.
February 15, 2014
Few household appliances are depended on more and thought about less than the hot water heater. For many homeowners, installing or replacing the hot water heater is the only time this essential appliance enters their minds.
Special Offers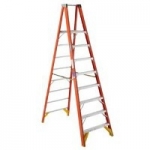 The Werner 8' Type 1A Fiberglass ladder is now just $106.49!
Valid 1/01 - 3/31/2014