Expert Articles & Advice
July 15, 2014
Gutters play an important role in keeping your home safe from water damage. Without them, your foundation can be weakened over time; water can seep into your basement, or at the very least, splash onto your siding or damage landscaping and foliage below.
July 1, 2014
As most homeowners know, squeaky floors come with the territory. Usually the older the house, the more squeaks you have to contend with. While they may come in handy for detecting intruders or midnight-snackers, they are mostly just annoying.
Special Offers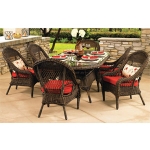 We have patio furniture in-stock and on sale!