Expert Articles & Advice
April 15, 2014
If your old deck is looking worn and shabby, you might be thinking it's time to demolish it and start over with a newly designed deck. While that's a perfectly reasonable approach, there are others ones that may better suit your need --and your budget.
April 1, 2014
Sitting around the fire. It's a tradition that goes back further than recorded history and is one that has endured for many reasons. The simplest of which is that it's just plain relaxing.
Special Offers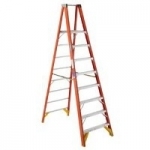 The Werner 8' Type 1A Fiberglass ladder is now just $106.49!
Valid 4/01 - 4/30/2014